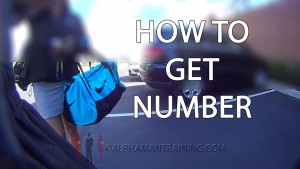 In order to get girls numbers in Charlotte you should be smart about that. For example in this video I am getting number from a girl who lives next to my apartment. So in this way I am going with instant qualification and indirect style:
-"Excuse me, do you live in xxxx apartments?", "Are you from Charlotte NC?" – in this way I do not across as a creepy guy and also she feels comfortable because neighbors see indirect vibe between us.
Go direct and say: "You are very hot, I like you, my name is Kevin" is not smart, because that girl will tell her friends that random guy was hitting on her. Moreover her female friends also will say that same guy tried to hit on them. In order to not lose reputation we recommend you be indirect around your apartments with neighbors and direct away from your apartments with other girls. Make friends with girls who live in same house.
Step 1: Approach her on the right moment (How To Get Girls Number in Charlotte NC)
Do not be an obstacle for her. That is the key. She walked to stuff and talked. I waited for her to finish her stuff. She finished and walked out from building. It was the right time to approach her.
Step 2: Smile and say "Excuse me" (How To Get Girls Number in Charlotte NC)
Remember, the first emotion you should create in her body is to make her feel relaxed. For example in this video a girl turned over the shoulder and looked at me. If I would not smiled that could creep her out.
Step 3: Be confident about what do you want from her (How To Get Girls Number in Charlotte NC)
In this situation I say that I am a dance teacher who runs Night Club dance lessons. Today I have a client and my assistant sicks. So I would like to invite her and help me to train guy how to dance in a nightclub. Remember people believe what they see. Show businesses cards or even some videos. Everyone can fake that they are dance teachers, but not everyone can show business card and video how they run that activity.
Step 4: Ask for her number and set the time to meet (How To Get Girls Number in Charlotte NC)
I asked her for a number and asked for her free time in today's evening. Remember the key is to meet her on the same day while emotions are still engaged. If you will wait two or more days she will forget you. Close her with confidence and meet her on the same day.