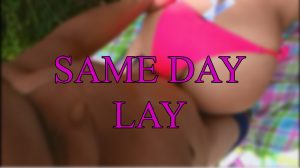 Unbelievable guys!! What happened this Sunday is simply incredible! Here I will tell you my Same Day Lay report, where I approached amazing total 10`s blonde on the beach and pulled her to a forest and fucked on the same day. You will get all my experience and will become more clever in beach game pick up.
I was at Klaipėda`s beach in Lithuania. Over here are lots of hot blondes. I was lying under the sun and saw this hot 10s blonde. I could not believe what I see her. She was brushing her hair and breathing very sexy. She was looking around and she could not believe that in front of her Same Day Lays expert.
Other 4 chumps were staring at her, but no one approached. I decided to show them what SAME DAY LAYS IS. I said to me: "I DO SAME DAY LAY NO MATTER WHAT. I WILL STAY UNTIL MY PENIS WILL BE INSIDE HER VAGINA OR I WILL DIE"
I took my towel and approached her. The Hot shining sun was shining at the Baltic`s sea bank and I was lying with hot 10s blonde and she was total into me. THAT IS THE LIFE!!!!
I said her:
-"If I win swimming I do with you what I want for next 10 minutes" – I said to her
-"Ok, what is the game?" – she replied to me
She afraid go for swimming, so I won this secret game. She said, that she needs to change her bikini because the sun is no longer shining. She went to changing room while I was outside. And she put another pink bikini. Her ass was incredible!!!
I pulled her outside the beach, did some dancing techniques and started to make out. Men, you cannot imagine how it is pleasurable. 15 minutes back I just approached her on the beach and now I am making out in private place.
She asked me:
-"Do you do it with all girls you meet?" – hot 10s blonde asked me.
-"No, just with you, because you are turning me on so much" – I told her.
I made out and grabbed her ass for long-time. I felt that she is turned on and I pulled her to close forest. My heart has started to beat more and my blood went to penis. Dick became hard and ready to hit her.
She asked:
-"Where we are going?" – She asked me
-"Let`s go we need to see my favorite place which I discovered recently!" – I lied to her. I have been at this beach for the first time and I did not know anything around here.
I pulled her to forest, manipulated and my penis entered her pussy in 10 minutes. She started to moan thru all over the forest. It was so hot. She had a boyfriend back in Russia and she was fucking me in forest. Once again I will repeat those words:
WOMEN BEHAVE HOW THEY FEEL. IT DOES NOT MATTER THEY HAVE BOYFRIENDS, HUSBANDS. IF THEY FEEL EXCITED THEY WILL SLEEP WITH YOU
I fucked her in forest for long-time. I fucked her in doggy-style, I wanted that she will experience lots of pain, pleasure, passion, love, hate, anger, jealousy. I wanted to make her want to come back for more.
I ended up with cumming in her anus! Lots of mosquitos were flying around us and could not understand what is happening here. After wild sex she hugged me and suggested go to the sea and jump in. So, for the first time she jumped into the sea.
What I learned from this Same Day Lay. Beach pick up
You always should be prepared for Same Day Lays no matter what.

Do not listen her all excuses why not to do this and this.

Just throw on her all techniques, manipulate and you will make Same Day Lay.

If you cannot talk in Russian

talk in English and dance with her

. Do more action than talking. That`s why I learned dancing and how to train those girls dancing. I become a teacher for them. That is why you need to learn how to dance and how to train those girls. Once you are a teacher – they become attracted to you.
Close her on the same day. I mean

fuck her on the same day

. I got lots of numbers in the past. Those girls will not meet you. From 20 girls will come just 1-2. That`s why you need to learn Same Day Lays. You will save lots of time.

Do more 

daygame

 than

nightgame if you wanna have work`s ethics, wake up early morning, work hard, save lots of time, energy, have amazing body shape. I love Same Day Lays, because it does not kill another day. When you go to nighclub, you party until 3 am morning, next day is gone. That is why I recommend Same Day Lays (Pick-up) and Same Day Bangs (Tricky, manipulating system) for business men who do not wanna go to night clubs and destroy their work`s schedule but still lay most beautiful young blondes.
Yours, Alpha Man Training